Online DFM Tool
Instantly check your design to qualify it for assembly and manufacturing.
Accelerate the design to-manufacturing handoff process.
PCBflow connecting designers directly with manufacturers, it enables a DFM analysis using the current
constraints for a specific manufacturer during the early stages of the design process,
reducing design iterations, costs and time-to-market.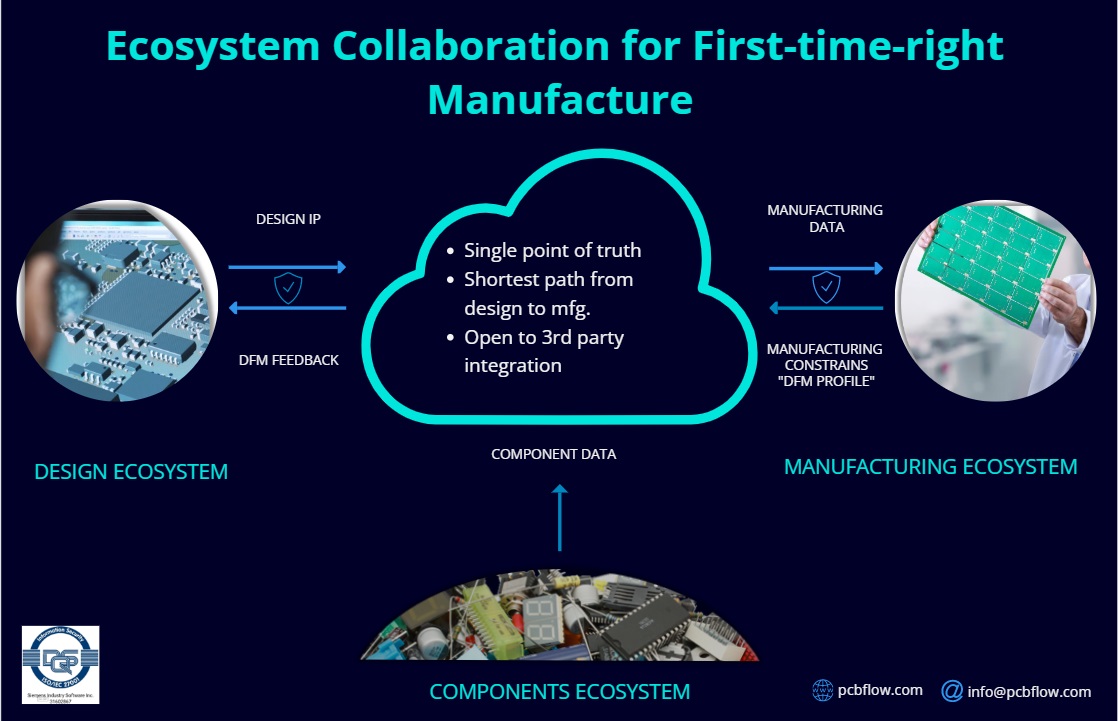 FAQs
Can PCBflow provide component pricing or availability information?

Yes. PCBflow includes FREE access to accurate, up-to-date part availability and pricing information from your preferred suppliers. We calculate the price of your BOM for you and even provide a handy calculation of spare parts that are left over if you order a larger-than-needed quantity to get a better price.

How do I generate a DFM Profile on PCBflow according to our manufacturing capabilities?

To create a DFM Profile, log in to PCBflow and go to the Manufacturer Tools area. Follow the instructions to download and install the Analysis Definition Manager app (Windows only). You will use the ADM app to define your custom DFM rules. In the app, you will find several examples of DFM profiles that you can use as a starting point. You can copy those profiles and edit them or create your own from scratch. Once you have finished defining your DFM profile, click the button to upload the profile to our secure server and make them available to other PCBflow users. We would be happy to help you set up your DFM profile – contact us at info@pcbflow.com
Remember, there is no charge to create or maintain your DFM profiles in PCBflow.

Can everyone see my DFM profile in PCBflow?

You can make your DFM profile as public or as private as you choose and change the status at any time.
There are three levels of DFM profile visibility: Public, Network, and Private
Public – any PCBflow member will be able to use this profile to perform a DFM analysis.
Network – access to the profile is limited to your PCBflow network connections only. Only users that are approved by you will be able to use this DFM profile.
Private – access is limited to your company's users only. PCBflow users from other companies will not be able to view this profile.

Can someone else download my DFM profile?

Your DFM profile can only be downloaded by users in your company who have been granted permission by your administrator.
If you choose to allow it, other PCBflow users may use your DFM profile to perform analysis.

Is my data secure on PCBflow?

All data uploaded to PCBflow is compliant with Siemens highest security standards. We are ISO 27001 compliant and undergo regular independent audits to ensure that we remain vigilant to prevent data leaks for both data at rest and in transfer. Each request you make to PCBflow is protected by a unique access token that ensures you only perform authorized actions. If you have specific security-related questions or concerns, please reach out to us at info@pcbflow.com.
HERE'S WHAT OUR CLIENTS SAY ABOUT US
Roberto Campri, Elco, Corporate Asia Manager
Digitization has led to a different way of thinking.  You can do things in new, previously unimaginable ways. Elco has used PCBflow to help various customers streamline their design process and plans to continue using PCBflow with customers in the future.
Mauro Sandri, CEO, Elco
DFM software tools are generally expensive. Using PCBflow is a game changer in the DFM field, as it is affordable enough to allow companies of all sizes to adopt DFM best practices.
Pavel Yankovich, Sintecs
PCBflow directly connects PCB designers with manufacturers and assemblers. Checking for compliance with the technological requirements of the definite manufacturer or assembler allows for preventing the occurrence of potential problems before placing an order and adjusting the project. A simple and intuitive interface with an utterly easy workflow helps to start using PCBflow with no time losses.
Peter Fruehauf, Project Manager, Siemens CT
Especially designers in small and medium businesses should run a DFM analysis as well, because otherwise they would make PCB designs, which are actually not manufacturable.
Tamir Hazan, Owner, Speed – Board Electronics Ltd.
For PCB designers, project sharing is very important. Designers and manufacturers should be able to work with OES. PCBflow allows that.
Evgeny Makhline, Nistec CTO
With PCBflow, manufacturers can prevent losses related to false production, reduce repairs by 80% and free up to ~600 engineering and quality hours per year – hours that can be invested in innovation and improvement
Martin Franke, Business Development Electronics, Siemens CT
A manual check always includes the risk of overlooking things. But, using this tool, you have an automatic iteration between the PCB fabricator on one hand and the designer on the other hand. The report hepls us to improve the process in two ways: first of all, time, but also quality.